What to Expect
This week will be an intensive course, 6 hours per day, and include a daily 2 hour practice of Brahmani Style Vinyasa Flow, Pranayama and Somatic meditation. Practical sessions will focus on the theory and applications of information.
​​
We will dive into the exploration of anatomy and movement in relation to a yoga practice. It will involve experiential anatomy and movement analysis. Taking an intelligent approach to anatomy based on modern research by experts in the field we will work with movement patterns, natural and primal movements, why injuries in yoga are on the rise and what needs to change to prevent this, how we can functionally move with the body and not against it.
​
Once we have delved into the workings of the body we then start to refine our sequencing techniques and bring newness to the movement patterns we present in class based on the anatomical information. You will learn how to structure movement that makes sense, is easy to teach and allows students to find their own way. And putting this together with finding a new language that gives us greater power to inspire our students through the information we are sharing.
​
If you feel like you don't understand why you and/or your students are dealing with pain or injuries and discomfort from the practice, or you have been repeating "the same old stuff" in your classes too much or you're un-inspired by your sequences, then this course will give you everything you need. This is a great intensive to give you a boost in your skills and your confidence.​
Date
Location
Your Teachers
Price
Early Bird
£550 - payment in full before 30th June​
Regular Price
£600
The price of this course does not include food or accommodation.​
Kama'aina price offered for residents. Contact below for more information
Schedule

​​​

Day One: Anatomy – Understanding the Foot and Pelvis
Day Two: Anatomy – Understanding the Arms, Spine and Core connection
Day Three: Anatomy – Spiral Dynamics – Spine, Pelvis and Shoulders – Fascia
Day Four: Sequencing – Refining our skills to create movement sequences that make sense
Day Five: Sequencing – Refining our skills to create movement sequences that make sense
Day Six: Sequencing and Language – With all this new information we need a new language to teach it.
Day Seven: Putting it all together to be able to apply this information in your regular classes or workshops.
Daily Timetable

Tuesday 10-3:45
Wednesday 11:30-4:45
Thursday 10-3:45
Friday 9:45-5:15
Sat 10.00-5.30
Sunday 11:30-5:15
Monday 11:30-4:45


Getting Here
​
The closest airport is KONA but HILO is also ok just a little further. There are car rental facilities at both airports.
Once the course is finished or before it starts you may want to check out the neighbouring islands and there is a small airport in Waimea with propeller planes that can easily take you to Maui or Oahu.
We look forward to welcoming you with a big Aloha!


Accommodation
Accommodation is not provided in this training. There are AirBnB's and VRBO's (Vacation Rental by Owner) in the area and also in the beach communities (more expensive). We will provide a list of areas close to the studio and can assist with questions that may arise as you are booking accommodation. Also note that you will need to hire a car while on the Island. There is no public transport to speak of and walking to and from the studio will be too far. October is low season in Hawaii so prices should be reasonable. Once you've done your initial research into accommodation and flights, please do not hesitate to ask questions.
Julie Martin wants you to think outside the box, get off your mat, shake up the old dogmas and find freedom to unfold into the beauty of a yoga practice that emerges from the inside. With over 25 years of experience and an international following of students and teachers alike, Julie's greatest aim is to inspire. Her particular passion for human movement means continual investigation of new anatomical approaches, working with natural movement, range of motion, integrated stability and letting go of some of the old asana myths in order to move with the body and not against it. The practice is always an enquiry, a somatic exploration of sensation, movement and stillness.
​​15 years ago Julie set up Brahmani Yoga in Goa, India after teaching in Brighton, UK for over 8 years. The largest motivation for the yoga centre was to create a community that could join together each winter season and practice without judgment, learn to let everything evolve and be totally inclusive to all yogis. What grew out of that is an international reputation especially in training teachers to challenge the "norms" of the yoga world when they no longer work for us... read more
BRAND/BUSINESS DEVELOPMENT MANAGER - Memories Travel (Myanmar)
---
November 2017 – June 2018
➡️ Creation of Memories Travel DMC, a high-end agency in Myanmar - member of the Memories group.
Memories Group is currently the first and only tourism conglomerate in Myanmar listed on the Singapore Stock Exchange (STX). The group also owns many well-known companies such as Ballons Over Bagan, Ballons Over Inle, Ballon Safaris, Awei Metta (Yangon), Awei Pila (Mergui Archipelago), Hotel Suggati (Moulmein), Keinnara Hpa An, Keinnara Kayah, Burma Boating.

🔵 Responsible for the creation and the launch of the new international brand : Memories Travel DMC
◾️ Elaboration of the Strategic Plan and the Brand Image
◾️ Elaboration of the marketing and communication plan
◾️ Overall budgeting and definition of KPIs
◾️ Definition of targeted markets and commercial attack strategies
◾️ Opening of the representative office in Europe (Job interviews, legal aspect, HR...)
◾️ Creation of new relevant tours to the new brand (New brochure "Collection of Memories")
◾️ Elaboration and design of all necessary marketing documents for the sales force
◾️ Complete website creation (CMS, web-design, products, DNA...)
◾️ Development of the webmarketing strategy
◾️ Opening social networks and The Blog - Creating a media plan
◾️ Creation of newsletters and specific marketing operations
◾️ In charge of the business development with the office in Europe - Follow-up, sales calls, targets setting.
◾️ Preparation of international trade shows
◾️ In charge of new partnerships with Tour Operators and Agencies in Europe and Asia (offline and online)
◾️ Logistical implementation of the brand in Myanmar through the operational offices in Bagan, Inle Lake and Mandalay
◾️ Employee Training, Change Management
◾️ Implementation of monitoring, analysis and reporting tools
◾️ Direct report to the COO and CEO

🔵 Others - ongoing
◾️ Project manager for the Travelife certification
◾️ In charge of marketing partnerships with local partners
◾️ Contracting and supplier negotiation
https://www.memories-travel.com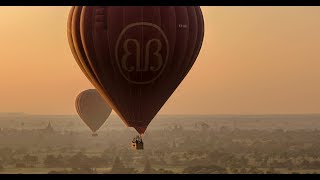 ---
ERP & BUSINESS DEVELOPMENT MANAGER - Phoenix Voyages Group (Myanmar)
---
June 2016 - June 2018
🔵 In charge of the implementation of the ERP Tourplan within the DMC
◾️ In charge of the tender process and contract negotiation
◾️ Global organization of the ERP implementation
◾️ Main training relay - in line with the Tourplan APAC HQ (Kuala Lumpur)
◾️ Creation of user guides by department and SOPs
◾️ Setting up a team of a 4-person (New Tourplan Department)
◾️ Creation of trainings and training of the teams (Contracting, Sales, Operations, Tourplan)
◾️ Monitoring and support for data entry (Database, PCM, Debtors, Creditors, Formats...)
◾️ Weekly fixes and improvements
◾️ Continuing training for new employees
◾️ Reporting and analysis to the GM
✅ Software implemented in 12 months and 95% functional - 100% of employees trained.

🔵 Business Development Manager
◾️ Sourcing and identification of potential partners
◾️ Analysis and competitive intelligence
◾️ Contact and contractualization of partnerships with agencies and tour operators in Europe (offline and online)
◾️ In charge of IFTM and ITB exhibitions and their budgeting for Myanmar - Post event follow-up - mailing
◾️ In charge of customized productions for European partners
◾️ Rates and contracts negociation with local partners
◾️ Monitoring and reporting to GM

🔵 Production Coordinator
◾️ In charge of the general production - Myanmar destination
◾️ Creation of new circuits and modules
◾️ Update of the rates and conditions twice a year (green and high season)
◾️ Creation of upsellings
◾️ Creation of GIR/SIC for European markets
◾️ Hotel inspections and supplier negotiations (trekking, cruises, interview guide...)

🔵 Other specific tasks and projects available on request
---
SALES MANAGER - Phoenix Voyages Group (Myanmar)
---
June 2015 - June 2016
🔵 In charge of the Sales Department - International markets -
Direct Management & supervision of the Sales force (A team made of both expatriates and locals)

◾️Sales and markets developments for FIT- GIT and MICE
◾️Implementation of segmented markets strategies with S.M.A.R.T targets
◾️Major reorganization of the department to maximize the confirmation rate and the overall quality of service
◾️Product Management and creation of new/innovative tours-experiences
◾️KPIs analysis and reporting to MD / GM
◾️Training of the team on sales techniques + quality control and customer centric approach
◾️Suppliers inspections and selection
◾️Management of the VIP clients and FAM trips for key accounts
◾️Creation of different team buildings : Sales performance, Quality control and Excellence in customer service, Up selling / Cross selling
◾️Global clients assistance in the country
◾️Assistance of the operations team and local guides to solve any challenging situation on field
◾️Creation of different marketing supports and tools
◾️Control of invoicing and payments
---
CONSULTING PROJECT MANAGER - Terre Cambodge DMC (Cambodia)
---
February 2015 - April 2015
🔵 e-Travel Project Management
◾️ Creation of the new website www.terrecambodge.com (French and English)
◾️ Design, mapping, netlinking
◾️ Webmarketing Strategies SEM (SEA et SEO) / Adwords
◾️ Community management and optimization
◾️ Reporting/Statistics via Analytics and main dashboards
◾️ Creation of the mobile website

🔵 In charge of the B2B and the B2C Production
🔵 In charge of direct Sales (Tailor made requests and Series)
🔵 Regular Inspections
---
CONSULTANT & TRAINER - BUSINESS COACHING - ESCAET (France)
---
January 2014 - January 2015
🔵 PROJECT MANAGER / CONSULTANT
➡️ Responsible for partnerships / business projects in the travel industry in different areas of expertise, both strategic and / or operational ⬅️

◾️Business Plan
◾️International/Local Business Development
◾️Global Web Strategy (website building, positioning, branding, SEM: SEO / SEA, netlinking, e-reputation, social networks and community management, monitoring, analysis and ROI)
◾️E-Distribution Strategies: B2B/B2C/B2B2C, channel partners, targets areas ...
◾️Contracting / negotiation strategies
◾️Pricing, Yield and Revenue Management (Accommodation, operators, distributors ...)
◾️Production /Product management strategies : packages, weekends, short stays, circuits/tours, combined, thematic products, niche segments ...
◾️MICE management
◾️Technological Recommendations for companies: CMS, CRS, Channel Manager, PMS, ◾️Production Tools, Analysis / Reporting, monitoring of activity ...
Tourism destinations Management: SWOT, Marketing heritage / resources for the attractiveness of destinations

🔵 Trainer / Instructor on Vocational Training activity of ESCAET
◾️ Long-term training: Vocational Aptitude Training for Travel Operators
◾️ Short and tailor-made training : "Production / Distribution in the Leisure Travel" (Tour Operators, Travel agencies, DMCs, Hotels...)
◾️ Organization of Web-Conferences
◾️ Press publications and Interviews

🔵 Trainer on the initial and continuing training : Bachelor (Bac +3) and MBA (Bac +5)
◾️ Destinations and regions of the world: "Les voyages du Jeudi" - Talk show
◾️Usage of social networks and community management: Facebook, Twitter, Google+, Blogger, Youtube, Pinterest

🔵 Head of Admissions
◾️ Speeches in high-schools of Tourism and Universities
◾️ Participation in student fairs
◾️ Conduct recruitment interviews
◾️ Online and Offline Communication and Promotion of the Business School
---
PROJECT COORDINATOR - Terre Cambodge DMC (Cambodia)
---
April 2013 – November 2013
🔵 Establishment and implementation of a global management tool for the internal activity of the DMC
ERP-PGI: Production - Quote - Reservation - Marketing - Logistics - Accounting
◾️ Overall brainstorming on the optimization of the business activity and its strategic departments
◾️ Redesign of the documents used by each service to optimize the 1st beta version
◾️ Development of databases : paperless contracts and local agreements
◾️ Nomenclatures attribution on each data in the databases
◾️ Development of technical links between the different departments
◾️ Design of the overall system architecture
◾️ Tests throughout the development
◾️ Technical development and implementation of the tool on internal servers

🔵 Integration of new solutions to optimize the new tool
◾️ Creation of a single entry point into the tool, feeding the different departments of the DMC
◾️ Re-design of the program with libraries (text, pictures)
◾️ Creation of a costs control system, margin and profit calculation
◾️ Optimization of existing process for the reservation department
◾️ Integration of customer billing tool for the accounting department

Tests, technical readjustments, measuring ROI, Change Management and training employees to use the new tool.

🔵 Others Missions
◾️ Web marketing strategy of the DMC
◾️ Social Network optimization of the DMC
◾️ Creating content and marketing tools (newsletters, videos, flyers, mailings ...)
◾️ Marketing missions with Lonely Planet, Routard, Lonely Planet, press articles ...
◾️ Management of new contracts with distribution partners (portals B2B2C, news OTAs ...)
◾️ Commercial support for IFTM Top Resa 2013 (International Tourism Trade in Paris)
---
WEB DEVELOPMENT SPECIALIST - Terre Cambodge DMC (Cambodia)
---
May 2012 – September 2012
🔵 Creation, development and implementation of the company's web marketing strategy
◾️ Optimization of the website (architecture, tags, content ...) via the HTML back office
◾️ Setting up SEO and SEM strategies, netlinking
◾️ Optimization and monitoring of web-strategies via Analytics, Adwords, Trends, Webmaster Tools ...
◾️ Readjustment and rehabilitation of the e-reputation with a CRM/e-CRM strategy
◾️ Creation of the Social Network of DMC (Facebook, Google+, Twitter, Linkedin, Viadeo, and MytourMag Youtube channel) and establishment of a community management strategy

🔵 Optimization and development of distribution channels B2C / B2B / B2B2C
◾️ Business development by expanding distribution to new markets with new distributors and travel companies (Tour operators, OTAs, Start-ups...)

🔵 Miscellaneous
◾️ In charge of the tailor made tours due to the increase of B2C requests from the website
◾️ Creation of the first Flash sale with a major international OTA: VoyagePrivé.com.
◾️ Partners inspections
◾️ Survey tours
---
ASSISTANT PRODUCT MANAGER WORLDWIDE - Voyage Privé (OTA) (France)
---
June 2011 – September 2011
🔵 Assistant Product Manager on Long Haul Destinations - Production Department at VOYAGEPRIVE.COM (Online global leader in high standard flash sales)

◾️ Inventory Management via the back office and reporting tools
-> trading and negotiation with airlines (seats), hotels (rooms), residences (villas), cruise lines (cabins), tour operators (packages), DMC (tailor-made tours ...
◾️ Management of the Benchmarking activity with our web support team in Romania
◾️ Publication of flash sales reports to suppliers
◾️ Management of the stop sales alerts
---
ASSISTANT TO MANAGING DIRECTOR - Azur Planet MICE (France)
---
January 2010 - February 2010
🔵 Assistant to Managing Director at AZUR PLANET MICE
► DMC specialized in corporate events and incentive trips (MICE) in the PACA region (Provence Alpes Côte d'Azur)

◾️ Collaboration with over 500 suppliers (hotels, restaurants, activity providers, casinos...)
◾️ Communication (phoning, mailing, conferences)
◾️ Networking Events
◾️ Customer Relationship Management
◾️ Preparation and participation to the CSR PACA Awards
---
TRAVEL AGENT - Jet Tours - Thomas Cook Group (France)
---
4 months (2008 - 2009)
🔵 Travel Agent - Jet Tours - "La Route des îles"
◾️ Customer sales calls
◾️ Sales
◾️ Quotes
◾️Communication (Mailing, phoning, Street Marketing)
◾️ CRM
---
COUNTRY MANAGER - Memories Travel + Phoenix Voyages Group (Myanmar)
---
June 2018 - December 2018 General management of the DMC for the 2 agencies : Memories Travel / Phoenix Voyages (Myanmar branch). Job description available on request.
---
BUSINESS DEVELOPMENT & MARKETPLACES MANAGER - Easia Travel (Vietnam/Cambodia/Laos/Thailand/Myanmar)
---
January 2019 - Present
Working destinations covered : Myanmar, Thailand, Vietnam, Laos, Cambodia Markets : Europe, North America, South America, Australia-NZ Job description available on request.
---
---